Welcome to Canberra Guided Tours, the longest-running premier tour company in the ACT. In this blog post, we invite you to embark on a journey of discovery as we explore the breathtaking countryside surrounding Canberra, from wine tours to wildlife encounters and stunning gardens.
We offer a range of day trips that showcase the best day trips from Canberra. Join us as we highlight the best day trips from Canberra and provide you with a taste of the unforgettable experiences that await.
Canberra's Stunning Wine Region
Indulge in the flavors of the Canberra Wine Region, a haven for wine enthusiasts seeking an exquisite experience and breathtaking views of Canberra's cool-climate region.
Our Canberra Wine Tour, can be availed both for joiners and exclusive tours for both small groups and large groups. Embark on a full-day adventure through picturesque landscapes and cellar doors. Marvel at the rural beauty of the Australian countryside as you sip on exceptional Shiraz, Riesling, viognier, pinot noir, cabernet and other wines typically produced in this region. Whether you're a seasoned wine connoisseur or a novice looking to explore new flavors, this tour promises to delight your senses and leave you with lasting memories.
Immerse yourself in the rural beauty of the Australian countryside, engage with passionate winemakers, and indulge in the rich flavors and fine food that this region has to offer. With expert guides and a personalized experience, the Canberra Wine Tour is an unforgettable journey that will leave you with cherished memories and a newfound appreciation for the wines of Canberra.
The Breathtaking Attractions of Tidbinbilla
Tidbinbilla Nature Reserve is a haven for nature enthusiasts and wildlife lovers. Located just a short distance from Canberra, this breathtaking reserve offers a unique opportunity to immerse yourself in Australia's natural beauty. In addition to its natural wonders, Tidbinbilla Nature Reserve also houses a fascinating site of scientific exploration – the Deep Space Tracking Station. Nestled within the reserve, this station holds significant historical and contemporary importance in space exploration. Here, visitors can delve into the captivating world of astronomy and learn about the pivotal role played by these telescopes in the Apollo missions, including the first moon landing.
Immerse yourself in nature's wonders with our Best of Wildlife Tour, showcasing the captivating Tidbinbilla area. Begin your journey at the Deep Space Tracking Station, where you'll discover the crucial role played by telescopes in the Apollo missions and modern deep space tracking. Then, venture into the Tidbinbilla Nature Reserve, home to some of Australia's most iconic native animals.
From kangaroos and wallabies to koalas and platypus, this reserve offers a unique opportunity to observe and interact with wildlife in their natural habitat. Marvel at the colorful parrots and other bird species that grace the skies, and keep an eye out for the majestic emus that roam the landscape.
The Peaceful and Vibrant Tulip Top Gardens Private Estate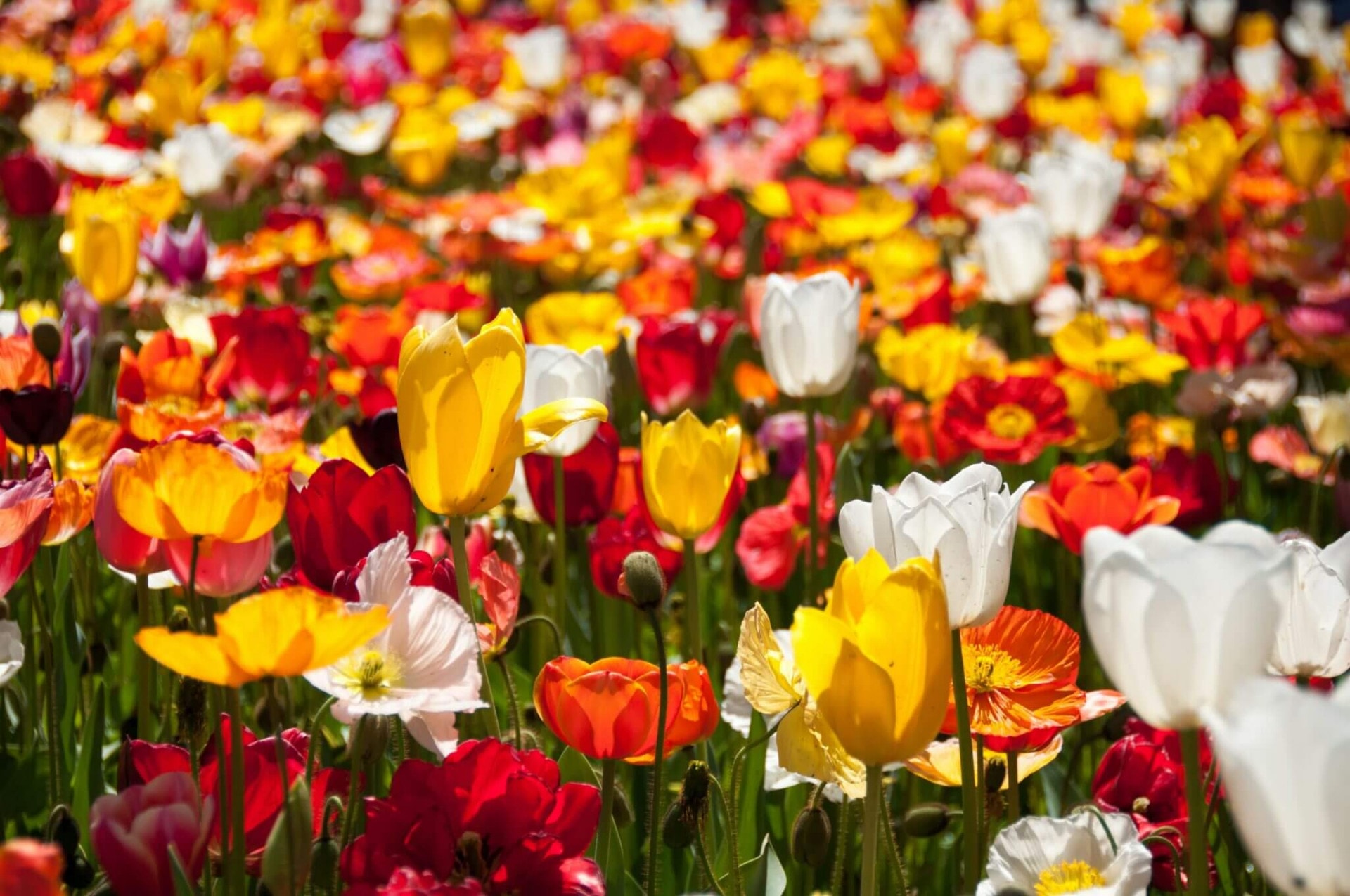 Nestled amidst the serene countryside of Canberra, Tulip Top Gardens Private Estate is a picturesque haven that bursts with vibrant colors and floral beauty during the spring season. As September rolls around, the estate transforms into a captivating spectacle of blooming tulips, showcasing the breathtaking charm of Canberra in all its glory. This privately owned garden has become an iconic destination for nature enthusiasts and flower lovers, offering a captivating display of tulips in a myriad of hues. Tulip Top Gardens also plays a significant role in the renowned Floriade Festival, an annual celebration of Australia's rich flora heritage. With its delightful floral showcase and tranquil ambiance, a visit to Tulip Top Gardens promises to transport visitors into a world of natural splendor and peaceful tranquility.
Don't miss the chance to experience the splendor of Tulip top Gardens in spring through our Canberra Floriade Tour. Running from September 16th to October 15th, 2023, this tour combines the beauty of the Floriade Festival with visits to other stunning nature spots just outside Canberra. Our custom tour also takes you to the National Arboretum, where you can immerse yourself in the conservation efforts and natural wonders of Canberra. Finally, explore Tulip Top Gardens, a private estate renowned for its captivating display of colorful tulips. Prepare to be mesmerized by the vibrant blooms and serene surroundings—a true feast for the eyes.
Escape the bustling city and embark on unforgettable day trips from Canberra with Canberra Guided Tours. From the indulgence of the Canberra Wine Region to the wildlife encounters in Tidbinbilla and the enchanting beauty of Tulip Top Gardens, our tours offer a diverse range of experiences for every traveler. Immerse yourself in the natural wonders and vibrant attractions of the surrounding countryside, accompanied by our expert guides. Book your day trip today and create memories that will last a lifetime.